DYSPORT – The NEW Botox!
LET YOUR EYES TELL YOUR STORY….. NOT THE LINES BETWEEN THEM….
What is Dysport
Like Kleenex and Band-Aid, Botox is a brand name that's become indistinguishable from the product. But in a new randomized study, Botox's newest competitor, Dysport, appears to have the edge in smoothing wrinkles.
Botox (onabotulinumtoxinA) was approved by the Food and Drug Administration (FDA) to treat frown lines — those pesky wrinkles between the eyebrows — in 2002. In 2009, a competitor, Dysport (abobotulinumtoxinA) was approved for the same use.
Prescription Dysport is an injection used to temporarily improve the look of your moderate to severe frown lines without changing the look of your whole face. The untreated facial muscles still work normally, allowing you to freely show facial expressions, such as smiling, in untreated areas.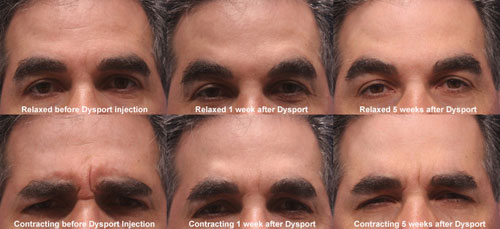 How does Dysport work?
With just 1 injection into each of 5 points between and over the eyebrows, Dysport blocks the signal from the nerve to the muscles, ultimately resulting in a reduction of muscle activity and temporarily preventing contraction of the muscles that cause frown lines.
You should not be treated with Dysport more frequently than every 90 days. Treatment with prescription Dysport can temporarily improve the look of your moderate to severe frown lines. Treatment generally takes just 10 to 20 minutes with NO downtown. (mild bruising may occur)
The most common side effects of Dysport treatment are headache, injection site pain, injection site skin reaction and, bruising. You should wait at least 90 days between Dysport treatments.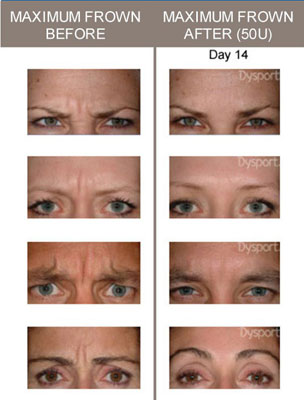 Who should NOT use Dysport?
Do NOT use Dysport if you are:
allergic to Dysport or any of the ingredients in Dysport. Active ingredient: (botulinum toxin Type A) Inactive ingredients: human albumin, and lactose.
Dysport may contain cow's milk protein are allergic to cow's milk proteins (Casein and/or Whey)
had an allergic reaction to any other botulinum toxin product such as Myobloc® (rimabotulinumtoxinB),* Botox® (onabotulinumtoxinA)* or Xeomin® (incobotulinumtoxinA)*
have a skin infection at the planned injection site
What areas can be treated?
Frown lines between the eyes
Crows feet
Forehead
For additional information and FAQ's please go to DYSPORTUSA.COM
 Improve Overall Vitality and Health SAFELY !